Invasion Colchester's Special Guests
In the past we have featured Jon Campling, Paul Warren, Nick Joseph, Pam Rose, Alan Flyng, Harry 'Aitch' Fielder, Ted Western, Derek Lyons, Mick Fryer-Kelsey, Sandeep Mohan, John Simpkin and Ralph Morse as Special Guests at the previous Invasion Colchester events. Altogether, they have appeared in movies and TV shows such as 'Star Wars', the 'Harry Potter' series, 'Doctor Who' and 'Guardians Of The Galaxy'!
For 2017 our line-up includes a critically acclaimed comic artist / TV presenter and people who have worked on films such as 'The 'Star Wars' Saga,
This year we're introducing Des Taylor, Chris Bunn and Victor Botha as well as welcoming back Mick Fryer-Kelsey, Nick Jospeph, Sandeep Mohan and Ralph Morse!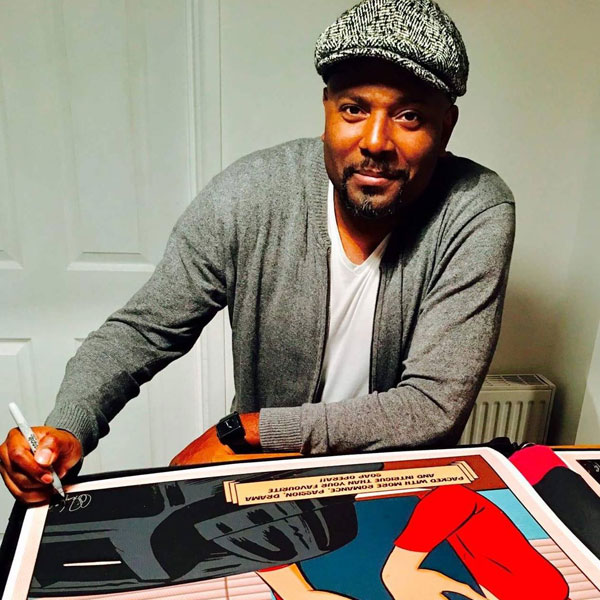 Des Taylor
Known for his COMICPOP ART, Des Taylor is an English pop art and comic book illustrator from Tottenham, North London, England. He is the creator of female comic book protagonist Katie Rogers, Scarlett Couture, The Vesha Valentine Story, Legend of the Blue Lotus and The Infamous Katie Rogers. He has also published 'Learn This - How to Draw Comics and Manga' by Wayland Books. His official site DESPOP sells prints of his artwork and promotes artists that he likes.
Des also presents DC Fancast, a superpowered fan show for Sky 1's outstanding line-up of shows based on DC Comics characters, acting as the resident comic book expert.
Where can I find Des?
Des will be sketching and signing autographs in Culver Square.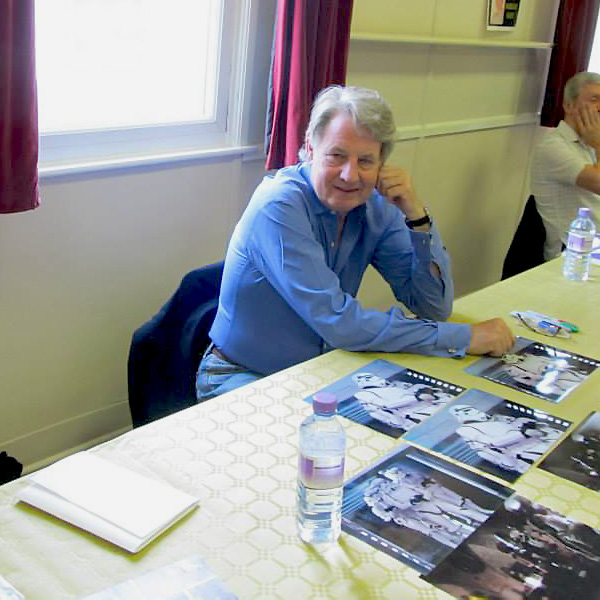 Chris Bunn
Chris Bunn has worked in TV and film since 1974, featuring in some of the most popular TV shows and movies of all time. Following his first film work on 'The Slipper and the Rose' in 1971, Chris has worked on three James Bond films ('The Spy Who Loved Me', 'Moonraker' and 'The Living Daylights') and two Superman movies ('Superman I' and 'II' - Chris played a policeman in the first film) as well as apperaing in 'Force 10 from Navarone', 'The Eagle Has Landed' and many of the 'Carry On' films. Chris was a body double for Kirk Douglas and a hand double for Harvey Keitel in the science fiction film 'Saturn 3'.
Chris has worked on all three of the 'Star Wars' original trilogy films, appearing as both a Stormtrooper and a Cantina astronaut in 'A New Hope'.
In addition to all of this, Chris has worked on some very popular TV shows over the years including 'The Sweeney', 'Minder' and 'The Avengers'. He was a body double for Lewis Collins in 'The Professionals' and has performed stand-in work also for Timothy Dalton in 'Agatha'.
Where can I find Chris?
Chris will be signing autographs and meeting people in Lion Walk.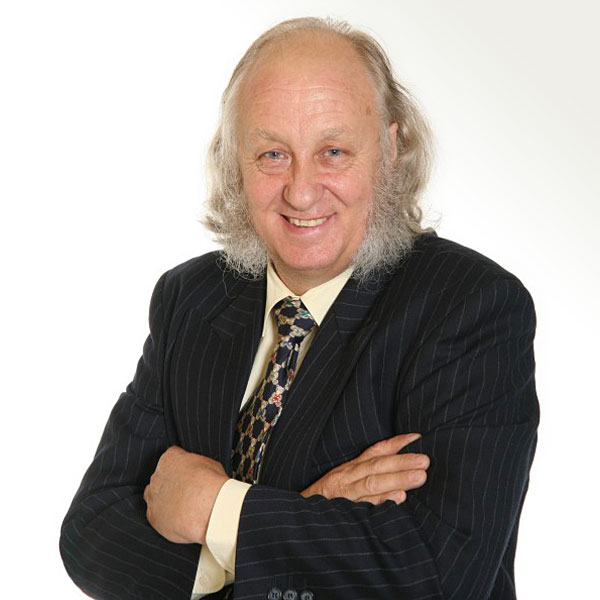 Mick Fryer Kelsey
Mick has worked in the TV and film industry since 1999 and has appeared in many films, TV shows and commercials in that time.
Most famously was involved in three of the 'Harry Potter' movies as a number of moving portraits and wizards and portrayed the space pirate 'Oskus Stoorat' at Maz Kanata's Castle in 'Star Wars: The Force Awakens'. Other films you may have seen him in include 'Shaun of the Dead', 'Alexander', 'Young Victoria', 'Children of Men' 'The DaVinci Code', 'Sherlock Holmes', 'Vanity Fair', 'King Arthur', 'The Golden Compass', 'Snow White and the Huntsman', 'Jack the GiantSlayer', 'Run Fat Boy Run', 'John Carter of Mars', 'The Libertine', 'Quartet', 'Venus' and 'Paddington Bear'.
On TV, Mick has worked on 'Midsomer Murders', 'Beautiful People', 'Scandalous Lady', 'The Juror', 'Bad Girls', 'Inside No.9', 'The trial of Elizabeth Gage', 'Audience', 'Hunderby', 'Dick and Dom in Da Bungalow', 'The Oxford Murders', 'Elizabeth the Virgin Queen', 'Monk', 'Days That Shook the World', 'Grantchester', 'East Enders', 'Holby', ' The Bill', 'Cranford', 'Bleak House', 'Little Dorrit', 'Oliver Twist', 'The Tracey Ulman Show', 'Fanny Hill', 'The Worst Century in History', 'Ballet Shoes', 'Merlin' and 'Sherlock'.
Where can I find Mick?
Mick will be signing autographs and meeting people in Lion Walk.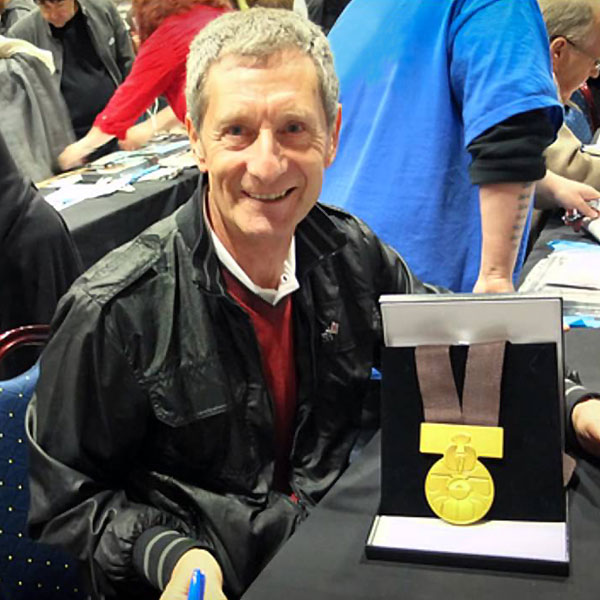 Nick Joseph
Nick became an actor by chance when when a friend of his who ran an agency for extras asked for help when she had been let her down at the last moment. He got the job, went home with £10 in his pocket and decided to enroll in a performing arts school.
In 1976, Nick's agent called to see if he would be interested in a low budget film called 'Star Wars' - the role was for the Medal Bearer in the final throneroom scene. Nick said yes, won the part and has forever been associated with it since.
In his career, Nick has worked on 'Doctor Who' with three different Doctors (Tom Baker, Peter Davidson and Colin Baker) as well as two episodes of 'Blakes 7', first as the Android in "Head Hunter" and then in "The Animals". He was the Armoury Officer in the James Bond film 'The Spy Who Loved Me', the Milkman in East Enders for the first three years and has also worked on 'The Incredible Sarah', 'We'll Meet Again', 'Secret Army' and 'The Manageress'. He has appeared in on many TV commercials, the best of which he says was working with Ayrton Senna (Nick played the role of Alain Prost and drove the F1 car as, at the time, he was an F3 race driver!).
Aside from acting, Nick also used to be a long distance runner, taking part in more than fifty marathons and many other long distance races!
Where can I find Nick?
Nick will be signing autographs and meeting people in Lion Walk.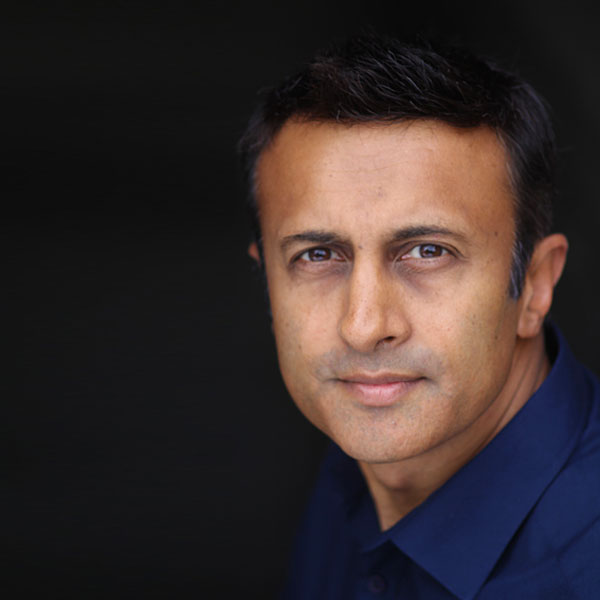 Sandeep Mohan
Sandeep Mohan, also known as Sandy, is a business-owner, entrepreneur, TV / film performer and model.
Despite developing an interest in performance during his informative years at school, Sandeep entered the manufacturing industry after his education and used his knowledge and technical skills to work in the US and the UK, and travel extensively throughout Europe as a trouble-shooter.
In 2008, Sandeep was given the opportunity to play a small role in Eastenders and thereafter other opportunities in TV dramas. This reaffirmed his passion for acting and he left the manufacturing industry to pursue business interests, thus allowing him the flexibility to have a larger involvement in TV and film projects.
To date, Sandeep has appeared in a number of TV dramas and comedies including 'East Enders', 'Silent Witness', 'Holby', 'Law and Order UK', 'Sherlock', 'Luther', 'Goodness Gracious Me' and 'The Keith Lemon Sketch Show'.
Sandeep has also appeared on the big screen in major films such as 'Prince of Persia', 'Skyfall', 'Spectre', 'World War Z', 'Edge of Tomorrow', 'Burnt', 'The Program' and more recently 'Star Wars: The Force Awakens' - he is the Stormtrooper that man-handles Lor San Tekka (Max Von Sydow) to Kylo Ren (Adam Driver) for interrogation, as well as one of the two Stormtroopers in the comic corridor scene (the one that stops his fellow trooper), the Stormtrooper that interrogates the alien as the village is overtaken by troopers, the Stormtrooper that lies dead at the feet of Harrison Ford in the control room and the First Order Stormtrooper Squad Leader that marches with Kylo Ren in parts of the film.
In addition, Sandeep appeared in Britney Spears' 'Criminal' music video and has provided voice-work for Channel 4 News.
Where can I find Sandeep?
Sandeep will be signing autographs and meeting people in Lion Walk.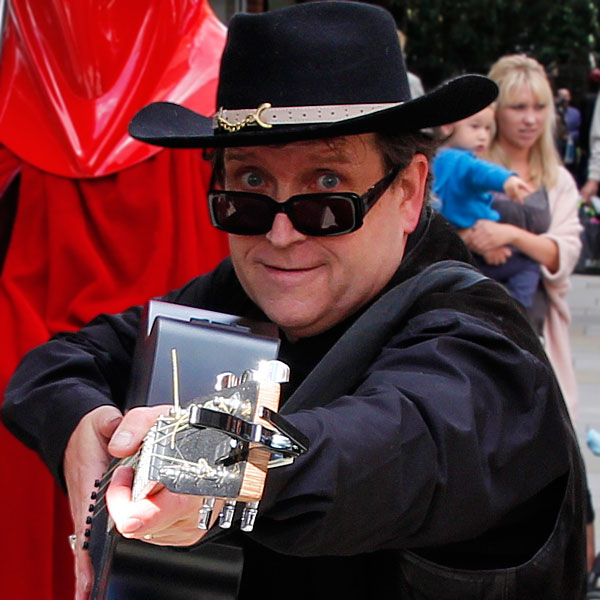 Ralph Morse
Ralph graduated from the Rose Bruford College of Speech and Drama in 1977 as both an actor and a qualified teacher (his father had instilled in him a social conscience and the need for a "second string to his bow") which sustained him through the early part of his career, following the traditional actor's path into small companies, provincial theatre and the like. He soon began to land small walk-on roles in TV and extra work. Sometimes he would be working at a studio during the day and on stage in the evening which was very tiring. In 1979 he became the artistic director (big title, small budget) for the Causes Theatre Company. Nearly all the money he made from film work was poured back into the company. From a professional perspective it paid off and in 1980 he won the London Fringe Theatre Associates Best Actor award for his performances that season in 'King Lear' and as Billy Fisher (in 'Billy Liar').
Over his career, Raplh has worked on 'Star Wars: The Empire Strikes Back' (as Corporal Derdram on the Excecuter, a Stormtrooper in the Carbon Chamber and nearly all of the Bespin scenes and a Rebel Soldier at the Evacuation of the Hoth base), 'Star Wars: Return of the Jedi' (as a Stormtrooper during Vader's arrival at the Endor Landing Station and the evacuation from the second Death Star), three James Bond films ('The Spy Who Loved Me', 'Moonraker', 'For Your Eyes Only'), 'Superman II', 'An American Werewolf in London', 'Riverworld', 'Doctor Who: The Keeper of Traken', 'The Hitchhikers Guide to the Galaxy' and 'Blakes 7: Animals' - interestingly enough, Nick Joseph and Ralph only discovered at Invasion Colchester in 2014 that they had worked together on this one!
After appearing for a couple of years as Gordon Travers, the face of 'Lloyds Bank', music and social projects began to form more prominently in his life and from the late-eighties onwards, he became a full-time performing arts teacher and his stage, film and television appearances became sporadic as his creative journey took into other areas.
Ralph left full-time teaching in 2003 and would resurface as Johnny Cashbox, who has become a major character within his own right and forms the backbone for his current artistic path. Nearly all of his creative projects now focus on issues impacting on the elderly and the infirmed.
Where can I find Ralph?
Ralph will be signing autographs and meeting people in Lion Walk.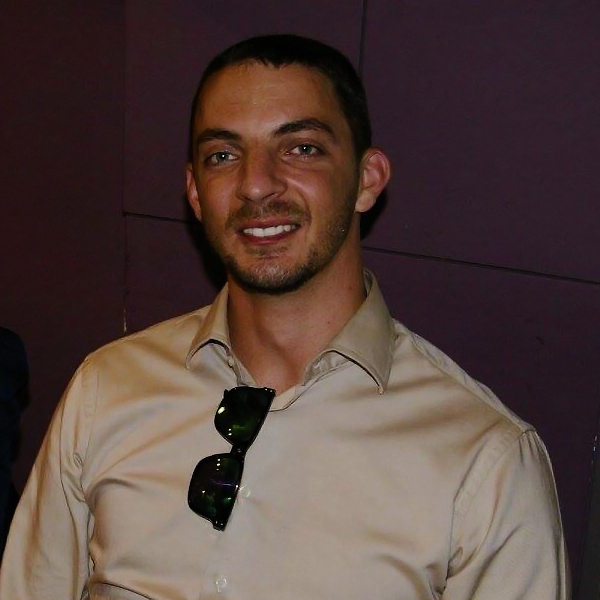 Late addition...
Victor Botha
Following a 15 year service in the British Army, South African actor / model Victor Botha portrayed a Imperial Death Trooper in 'Rogue One: A Star Wars Story' as well as performing a number of stunts.
Physically fit, Victor has a wealth of military experience, especially firearms.
Where can I find Victor?
Victor will be signing autographs and meeting people in Lion Walk.